DOWNLOAD PETITION | RLINC FORUM | SUMMARY | DEMOGRAPHICS | RESOURCES | FIRE SAFE | HOME
San Francisco Peninsula Fire Safe Council
9/11 ALERT S.F. Peninsula Watershed Security Plan
1) The California Watershed Posse (CWP) has established four private sector rural lands 501C3 non-profit community based Councils for the purpose of protecting California's future. Our mission is to develop & implement State (CEQA) and Federal (NEPA) adopted watershed coordinated resource management plans (CRMP) in rural and wildland areas of California.
Rural Lands CRMP Council

Water Quality Protection Program (WQPP)

San Francisco Peninsula Fire Safe Council

Rural Lands Invasive Species Council.
2) The California Watershed Posse in the fall of 2001 initiated a collaborative effort with the leading international innovator of natural systems from Firebreak Canada. The outcome of that collaborative effort was the development of a strategic watershed CRMP for the San Francisco Peninsula Watershed located in San Mateo County. The 9/11 San Francisco Watershed Security Plan proposes 21st century solutions to the multiple challenges in protecting our watershed vital natural resources from invasive species (wild pigs), terrorist attack, catastrophic wildfires and non-point source pollutions. The California Watershed Posse is seeking State and Federal partnership and funding for the deployment of the Firebreak Canada FireALERT, FluidALERT, IntruderALERT and InvasiveALERT sentinel systems.
3) It is no secret that the San Mateo County (SMC) Rural Coastal Zone (RCZ )valuable resources. The SMC RCZ wildland watershed is a State Responsibility Area (SRA) which includes the coastal unincorporated Rural Lands communities with approximately 6,300 residents (see RCZ map) and is also haven for a variety of habitats which supports the highest concentration of rare, threatened, and endangered species in the Bay Area. The San Andreas, the Lower & Upper Crystal Springs and the Pilarcitos Reservoirs, nestled between the Santa Cruz Mountains
and the 280 Freeway, are said to contain some of the purest drinking water in the United States. What is not well known is that the spectacular and beautiful surrounding rural landscape harbors a serious threat to this prized commodity. Long years without a major wildfire have allowed a serious buildup of biomass that could, according to the California State Auditor's SFPUC February 2000 Report, fuel a catastrophic firestorm in a region that lacks a

rapid fire response capability enjoyed by most inner-city fire departments. A major wildfire driven by blazing hot Diablo winds could explode over and beyond the eastern facing slopes above the
reservoirs only to be stopped at our coastal waters edge after stripping the groundcover of its ability to hold back soil and long hidden pollutants when the heavy rains come. The last major wildfire in this SMC RCZ watershed occurred in 1946 which resulted in reduced capacity of the reservoirs because of the vast sedimentation that followed the fires. The GGNRA Fire Management Plan records describe the damaging 1946 wildland fire as having lasted for six weeks, completely burning down the small coastal community of Montara. In year 2001, the Half Moon Bay Fire Protection District alerted SMC RCZ coastal communities that all the conditions that caused the disastrous 1946 wildfires now currently exist in our coastal watersheds. High temperatures, warms Santa Ana winds, steep hills, excessive wildland vegetation, drought affected plants, narrow roads, slow wildland fire detection and densely populated wildland /urban interface area (WUI) neighborhoods all contribute to firestorms. The result will be streams, the ocean, bays and reservoirs degraded with nonpoint source pollution that could, according to the Bay Area Water Users Association, potentially cause the 2.4 million Bay Areas regional water users, the loss of drinking water for a period of 4 to 8 weeks.
4) Fuel Management (the removal of groundcover and old & diseased trees) is the State of California fire prevention policy that is designed to deal with the problem of excessive biomass in the wildland. However, the laws of physics always seem to prevail; for every action, there is a reaction. Prescribed burns and/or the mechanical removal of the flora in this delicate ecosystem would unquestionably reduce the threat of a major wildfire, although it is expensive, must be maintained in perpetuity and it does not prevent them. So, regardless of prescription, an unplanned wildfire stripping the groundcover, or planned fuel management doing the work, the problem of soil erosion will be ever present above the reservoirs. Under any prescription, the SMC RCZ communities are at the highest risk from a catastrophic firestorm.
5) Early detection of wildfires is certainly a more proactive strategy than simply waiting for an inevitable event to occur. The problem is the current detection method in wildland areas is wholly dependent on visual observation. This system works well if wildfires ignite in areas that are clearly visible to the public and during the daylight hours when the majority of the community is awake, but nature and arsons do not typically start fires when and where it is most convenient to the majority of the population. Anecdotal evidence of previous wildfire events in this area (August 10,1999) indicates that they have sometimes burned for days before being spotted. If one of those events had actually occurred during conditions that were optimum for a wildfire, this current discussion regarding potential nonpoint source pollution would be solely academic.
6) One suggestion that would help the SWRCB protect the SMC RCZ watershed is to think outside of the box. This is the 21st Century, why not utilize a proven technological solution? The Bay Area is, after all, the science and technological center of the universe. First, consider that the City of San Francisco Fire Department's average response to a structural fire is two minutes. Second, because of this rapid response, very few structures and almost no lives are lost to fire. The Fire Department has been assisted in this most commendable accomplishment by innovative city building codes that require commercial structures to have state-of-the-art fire detection-alarm systems. These codes are designed to promote rapid response that will typically result in quick suppression, while the fire is small; rather than having to face a fully engaged fire that could potentially cause total structure loss and place the firefighters and inhabitants in great danger.
7) To protect the SMC RCZ watershed from nonpoint source pollution, the California Watershed Posse (CWP) proposes the deployment of a 9/11 ALERT (Firebreak Canada) sentinel system that would provide the responsible fire agency(s) with the same tools utilized by the San Francisco Fire Department in their successful fire suppression model. The challenge is to identify a system that is as reliable as their AC powered detection-alarm system. Unfortunately, there is no infrastructure to support AC power in the wildland and to suggest it, as an option would not be economically or politically feasible. Remote battery operated systems are certainly an option, but they fail the test because of expensive maintenance issues and a long history of unreliability.
8) The FireALERTtm system uses 21 st Century technology to provide a reliable, maintenance free, early warning wildfire detection-wireless alarm system designed to protect the wildland from wildfires. Each FireALERTtm system is programmed with a unique geographic address and reports system integrity to a central control center each morning. It also reports if it is vandalized or tilted. It additionally has a lost hiker/medical emergency call box feature.Its primary component is a patented, stand-alone energy platform that does not require AC power or batteries to operate. The platform has been developed and refined over a twelve-year period and has an expected life of over 20-years. It currently powers a computerized water management system that is used in over 800 government entities in North America and over 20,000 units have been sold around the world. Its four primary elements are energy collection, energy storage, digital processing and telemetry. The energy collection is achieved with a customized photovoltaic module that is designed to perform efficiently in a harsh desert sun, heavy shade, and under freezing winter storm conditions. The energy is managed and stored in super capacitors for utilization 24 hours per day, 7 days per week. The microprocessor analyzes data and transports it by wireless transmission to a field handheld receiver, or to a repeater, and/or up-linked to a satellite and down-linked to any location around the world.
9) The other component is a proprietary Spectral Resonance Imaging (SRI) sensor used to detect the unique signature of fire. The SRI Technology completes a 360o sweep once every minute looking for a fire signature. It has a view up of 45o, and a 45o view down, a range of ¼ mile, and moves at 6o increments on the horizontal plane. As it sweeps it builds a history of typical background noise and a threshold is created. When the SRI sensor detects a fire signature of 48" x 48" or greater at ¼ mile, it returns to the targeted coordinate twice to determine if the fire signature is growing. If the fire signature continues to grow after the third look, a wireless alarm is dispatched from up to twelve-miles to a central control center and/or handheld receiver. If the transmission is greater than twelve-miles, or disturbed by topography, the alarm is sent to a repeater station and/or up linked to a satellite and down linked to a central control station anywhere in the world. Within three minutes of fire ignition an alarm providing exact location, direction, size, available biomass fuel, topography, access to the site, etc. is being viewed in real time as a virtual image by a fire agency's rapid response team coordinator. Information derived from the FireALERT tm system allows the coordinator to allocate, with a few simple keystrokes, the number of personnel and fire suppression resources (who will already be on-standby) that will be required to suppress a small fire before it becomes a catastrophic wildfire.
10) Now that the same reliable platform that supports the FireALERTtm also supports the FluidALERTtm the IntruderALERTtm, and soon the InvasiveALERT systems. The FluidALERTtm was originally designed for a mountain top stream application and the IntruderALERTtm for a border patrol application. Unfortunately, their applications were redirected after the events of September the 11th, when civic infrastructure was compromised in a way that was previously never imagined in the long history of the United States. An arson/chemical/biological terrorist attack on the Bay Area's Hetch Hetchy regional water supply is no longer just a plot for some fictional Hollywood movie; it is a terrorist's war strategy.
11) The FluidALERTtm is designed to measure water volume, flow and quality. When the state water quality agency determines under the 303(d) process that a stream is impaired by specific pollutants, it must establish a ``total maximum daily load" (TMDL) for those specific pollutants that will allow the stream to ``recover" and once again meet water quality standards for its designated users NPDES permit. The FlluidALERT can be programmed to provide the SWRCB 24/7 real time monitoring of the TMDL's of impaired SMC RCZ water bodies. Units spaced around SMC RCZ streams, bays and perimeter of the reservoirs daily report integrity and statistical data in batches to a central control station over a wireless network. If an event occurs that alters the water chemistry from what is the accepted norm, a wireless alarm is immediately transmitted to a central control station identifying exact location of detection. The FluidALERTtm will also immediately report a vandalized or tilted condition to the central control station via the wireless communication network
12) The IntruderALERTtm is designed to detect vehicle, human and the InvasiveALERT tracks massively distructive and deceased ``wild pig" intrusion. Each day, units spaced around the perimeter of the reservoirs report system integrity to the central control station via a wireless communication network. If an unauthorized intrusion event occurs, a wireless alarm is immediately sent to the central control station identifying location of detection. The IntruderALERTtm and InvasiveALERT will also immediately report a vandalized or tilted condition to the central control station via the wireless communication network.
13) In Conclusion, the Half Moon Bay Coastside Foundation dba California Watershed Posse proposes to protect the SMC RCZ watershed from nonpoint source pollution by supplying and deploying a 500 unit FireALERTtm wildfire detection-wireless alarm system, a 120 unit FluidALERTtm system , a 120 unit IntruderALERTtm and 500 unit (wild pig) InvasiveALERT system. The goal of our SMC coastal community-based foundation's coordinated resource management plan (CRMP) is to strategically address existing water quality concerns and to prevent the kinds of expensive catastrophic events that have occurred elsewhere in the country. Our SMC RCZ communities have increasingly realized that nature is not simple to be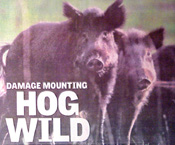 used or passively appreciated, but that we are all part of the natural world and that our earth's natural resources have inherent value. Through sound decision making, conservation practices, and wise land usage we can help sustain and renew these natural resources for future generations. The SMC RCZ communities will do their part to protect the water quality and remaining rural wildland habitat areas. It is a shared opportunity to be responsible stewards of vital but fragile watershed resources. The economic and environmental benefits of the Firebreak Canada systems are the protection, enhancement, and restoration of San Mateo County coastal watersheds, riparian stream zones, and wetlands. A rapid 9/11ALERT deployment will reduce the need for costly new water treatment plants, provide high quality drinking water at reduced cost, reduce the cost of flood damage, and improve water quality for aquatic ecosystems and human recreation. The Firebreak Canada sentinel systems, FireAlert, FluidAlert, IntruderAlert and InvasiveALERT will provide the SMC RCZ communities with a 21 st Century technological homeland security solution. We must never forget the terrorist lesson of September 11, 2001.
DOWNLOAD PETITION | RLINC FORUM | SUMMARY | DEMOGRAPHICS | RESOURCES | FIRE SAFE | HOME
website maintained by oscarknows inc. a streaming media publishing and content management services company. copyright 2010